The growing attention for the environment has made sustainability an inevitable must and an ever more popular corporate manifest, including in the home furniture industry. In recent years producers have churned out sustainable products at an increasing pace.
The phenomenon stretches across the entire product lifecycle and goes from design, to production, to usage and disposal. Hence the idea of using natural or recycled/recyclable materials, starting with waste materials such as plastic, and that of designing products that are easy to disassemble and therefore to dispose of in a clean way at the end of their lifecycle.
We are talking about truly green products which are the result of a design and production process that has been entirely rethought in terms of minimising waste and energy consumption - often using renewable sources - with the objective of benefitting the environment.
These products are the champions of circular economy, as unique objects that ultimately help heal our planet.
CrossChair, TAKT
Danish TAKT is a B Lab-certified company and one among the pioneers of sustainable furniture. It combines environment friendly production with a design that is accessible to the general public. It chose to certify all its products under the UE Ecolabel system and to disclose the carbon footprint of its products at every stage of their lifecycle: materials, production, shipping, usage and disposal. All products use FSC® certified woods, guaranteeing that trees were cut respecting natural restoration criteria. Every component of the furniture is recyclable and can be either repaired or replaced.
Costume, Magis
The modular sofa designed by Stefan Diez for Magis is meant for durability, but also for repairability and easy disposal at the end of its lifecycle.. The modular system is made up of a main unit that can be combined in various configurations or complemented with armrests. All the elements were designed for quick disassembly, cleaning and repairing, in a circular economy logics. Costume's central element is a hull made of recycled and recyclable polyethylene using waste materials from the furniture and automotive industries.
The upholstering is available in three types of fabric and is easily removable for cleaning or replacing, thanks to the rubber rings securing it to the hull.
Goes green, Zanotta
The green versionof the iconic "Sacco" is filled with Symbra BioFoam micro-pellets. This bioplastic obtained from sugarcane is biodegradable and compostable, on top of being highly durable. The sack itself is made of ECONYL, a nylon fibre obtained from recycled ghost fishing nets and other marine waste materials. It can be used for an infinite variety of products and recycled indefinitely without using up our planet's natural resources. The 100 units limited edition collection was designed by Pierre Charpin and features a coloured fishnet pattern.
The Elements, studio design The New Raw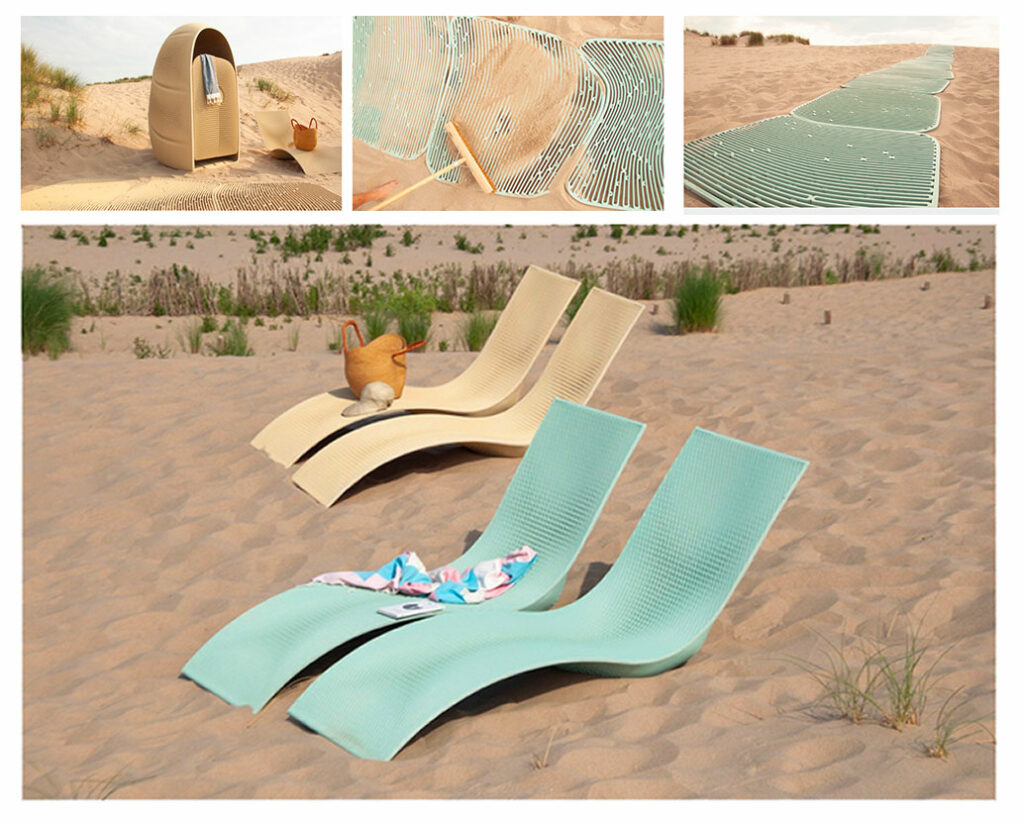 "The Elements" is a limited edition beach furniture suite composed of a cubicle, a pathway and a sun bed. It is produced by Rotterdam-based "The New Raw" through digital 3D printing, using recycled marine waste materials. The design is inspired by what we normally find or experience at the seaside, like wildlife, sand and waves. Originally conceived for Coca-Cola in Greece, the suite was installed last year on six of the most popular beaches in the country. Every item is made of 80% recycled marine plastic and is itself 100% recyclable to supply the raw-material for other plastic products in the future.
Adell, Arper
The Adell armchair, designed by Lievore + Altherr Désile Park, stands out for its rounded, natural shapes, like a pebble polished by water. It can be used both indoors and outdoors. Sustainability stands at the centre of this project: the elegant shell, combining with either a removable firm cushion or a soft padding, is made of 80% recycled polypropylene with a distinctive texture. Adell's reassuring, cosy looks convey a sense of quiet and peaceful relaxing.
Sanders Universe, Ditre Italia
The brainchild of fashion designer Tiziano Guardini, designed by Stefano Spessotto, this sustainable sofa is a a new take on the iconic Sanders Air sofa. Upholstered in sustainable fabric, its padding is entirely animal free and environment friendly, as an alternative to goose down. Its frame and base are made of metal, partially obtained from scrap materials. The slats are made of recycled glass fibre and PET. Natural latex and coconut fibre, held together with rubber-based glue, were used for the cushions' padding instead of foam. Cushions are in turn upholstered in recycled polyester fibres obtained from plastic bottles through a totally traceable and sustainable process. A fabric called Ecosy - Ethicaly Soft Made, with breathability, comfort, resilience and softness as its main characteristics.
Ohmie, Krill Design
"Ohmie the orange lamp" is the world's first lamp made from orange peel. It was created by Krill Design, a young Italian startup born from the meeting of three individuals who share the same passion for innovation, sustainability and design.
Krill Design won the World Economic Forum's "Best Performer" award for its circular economy philosophy, as an example of sustainability. Krill Design is also part of B Corp NetZero 2030. The lamp is made of Rekrill Orange, an innovative new material deriving from the combination of orange peel with a biopolymer base. It has a velvety, robust texture, and is 100% natural and compostable. The lamp is 3d printed in a solid, single piece. Its external texture is that of the orange peel, and it even gives off a slight orange fragrance.
A.I. Kartell
A.I. is the first chair entirely conceived by Artificial Intelligence. It is made of 100% recycled materials, in line with Kartell's continued engagement towards sustainable production, new materials and new processes, as recently expressed in the company's manifest: "Kartell loves the planet".
The 100% recycled thermoplastic polymer A.I. is made of pure-grade scrap materials. For the first time Kartell uses recycled plastics, activating a virtuous process that contributes to the protection of the environment thanks to the use of industrial scrap. Designed by Philippe Starck, the A.I. chair was created in collaboration with US-based Autodesk, a company specialising in the production of 3D software for engineering and the entertainment industry
Oplight, Flos
Oplight is Jasper Morrison's latest wall lamp for Flos. Designed for durability and energy efficiency, it is also fully recyclable. An exercise in simplicity, its design concept is an oval slate on a wall, like a note on a staff.
Oplight works with an LED light source covered by a transparent, grooved panel that deviates light towards a far corner of the wall, allowing for the highest illumination efficiency while guaranteeing considerable energy savings.
Since the LED board is not glued to the lamp's heat sink, like in most products of this kind, it can be easily removed and replaced in case of fault.
The light yet sturdy frame is made of die-cast aluminum while the colour is applied with a solvent-free process. Oplight comes in three colour finishings, adapting to different architectural styles and atmospheres.
Earth Stool, Mater
Earth Stoolby Eva Harlou was conceived for both domestic and commercial spaces. It is the result of a new, innovative waste-to-value technique that allows Mater, a Danish company born in 2006 with a focus on sustainability, to make the best use of industrial scrap. Earth Stool is available in three versions: 'Beer Waste Edition", made of exhaust grain fibre from the Carslberg breweries; 'Coffee Waste Dark'; and 'Coffee Waste Light' made of coffee-bean husks deriving from the roasting process at BKI Coffee, mixed with industrial plastic waste from Grohe.
Copyright HOMA 2022- Issued By Homa Marketing dept. on April 2022