Have you ever thought about what materials go into making your Smartphone so smart?
There is a surprisingly large mix of metals in any given smartphone, from copper, silver and gold for conductivity, to indium-tin oxide for touch screens, to lithium for the batteries, through a whole array of rare earth metals (REEs) bringing colour, clarity and sound to your devices.
These precious ingredients, defined as Critical Raw Materials (CRMs), are not only used for these vital accompaniments to our daily lives, but also in the clean green technologies that are crucial for moving to a carbon neutral or net zero society as we tackle climate change.
For example, lithium also powers the batteries of electric vehicles, platinum integrates the production cycle of green hydrogen, and silicon is used in the production of photovoltaic panels.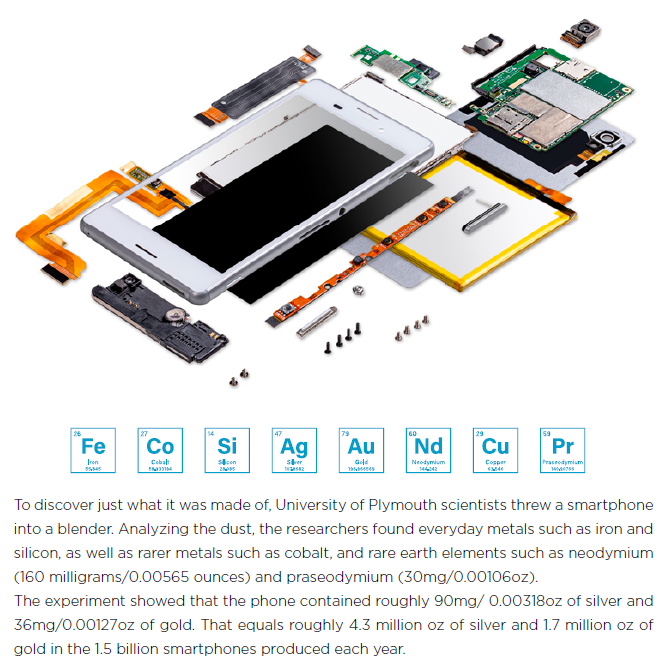 So how and from where are these CRMs obtained? Many of them are mined in countries with the potential to become unstable politically, where the rights of indigeneous groups and their traditional environment can clash with the industry, where there may be few workers' rights in the mines, or where the supply chain is long and complex from mine to manufacture.
These factors have resulted in various ongoing actions by the European Commission (EC) to reduce Europe's CRM dependency on third countries, diversifying supply from both primary and secondary sources and improving resource efficiency and circularity, while promoting responsible sourcing worldwide.
In September 2020, as the EC presented its Action Plan on Critical Raw Materials, Maroš Šefčovič, Vice-President for Inter-institutional Relations and Foresight said: "A secure and sustainable supply of raw materials is a prerequisite for a resilient economy. For e-car batteries and energy storage alone, Europe will for instance need up to 18 times more lithium by 2030 and up to 60 times more by 2050. … we cannot allow ourselves to replace current reliance on fossil fuels with dependency on critical raw materials. This has been magnified by the coronavirus disruptions in our strategic value chains. We will therefore build a strong alliance to collectively shift from high dependency to diversified, sustainable and socially-responsible sourcing, circularity and innovation".
What does this mean in practice? Currently, EU countries only supply small amounts of key critical raw materials needed in strategic sectors like wind power, batteries, robotics and photovoltaic. Giving a greater push to the recovery of CRM from electronic devices is one important solution, but in the words of Hildegard Bentele, Member of European Parliament (MEP) and author of the Report on the European Strategy for Critical Raw Materials, "There is no doubt about the potential of recycling and other elements of the circular economy. But let's not turn a blind eye to the continuing need for primary raw materials. Sustainable sourcing in the EU is part of the solution."
To meet this need for sustainable sourcing, among other actions, the EC:
- has established a European Raw Materials Alliance to bring together all relevant stakeholders
- is working with Member States and regions to identify mining and processing projects in the EU that can be operational by 2025. A special focus will be on coal-mining regions and other regions in transition, with special attention to expertise and skills relevant for mining, extraction and processing of raw materials
- will promote the use of its earth-observation programme Copernicus to improve resource exploration, operations and post-closure environmental management.
And what about recycling? A recent statement by European People's Party MEPs said "The industrial processes of recycling of critical raw materials still require substantial investments in collection and recovery infrastructures, in innovation and in the expansion of technologies, as well as in skills…," while noting that the national plans of EU states did not adequately meet these requirements. With the notable exception of Italy, whose National Plan of Recovery and Resilience provides 150 million euro for the financing of innovative systems for the recovery of CRMs from discarded electric and electronic devices.
So what can we do to help?
Research by UK campaign group Material Focus estimated that in 2021 5m unwanted electrical items would be thrown away or hoarded after being supplanted by purchases made between Black Friday and Christmas.
The estimates, based on a survey of 2,000 adults, point to at least 2.7m older unwanted electrical items being sent to landfill and a further 2.2m being forgotten at home.
Britain's e-waste problem is likely to be replicated worldwide, with analysts estimating that millions of new mobile phones would be bought in the wake of Black Friday, spurred by the latest iPhone launch.
So if you have to buy a new device, look for somewhere to donate the old one. Find out what the electronics recycling situation is like where you live, and speak to the authorities if it's not adequate. And search round in the drawers for those old phones – who knows how much silver and gold you're hoarding!