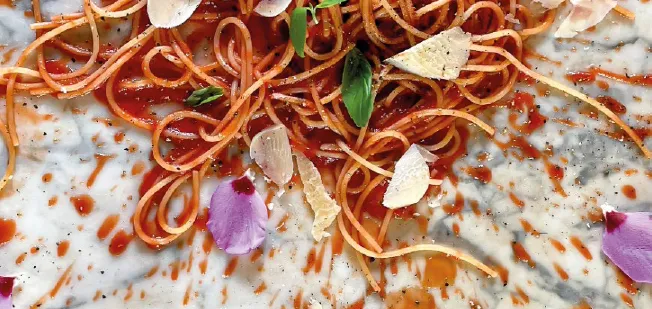 To most Italians, and pasta-loving foreigners, any changes in the way this monument of Italy's cuisine is served often amounts to outright sacrilege, given a few concessions to fancy toppings and decorations. Nestled in a shallow plate in a more or less geometric, or dishevelled fashion, cheese shavings on top, if applicable, and further seasonings: that's more or less the standard conception of pasta plating, a paradigm that went unchallenged for well over a century.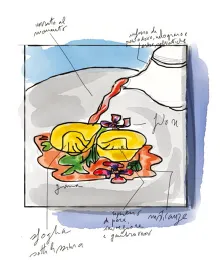 To chefs like
Silvio Battistoni
, owner of the "
Colonne
" gourmet restaurant in Sacro Monte, just outside Varese on the Swiss-Italian border, plating is as important an element as the recipe itself in the design of a haute-cuisine dish. The sketches by local artist Yama refer to his pear and red-prawn ravioli in pomegranate, tomato and herbs infusion served in bone China, and his lacquered celery, walnuts and tuna roe spaghetti presented on a stylish black slab of local slate.
But Italian cuisine has evolved, especially haute-cuisine, and so have recipes for pasta, which are ever more innovative, and open to the influences of other cultures. While that has been generally accepted by Italians, in fact they're quite proud of this gourmet evolution while not renouncing tradition, plating has remained quite boringly the same. Fine dining establishments found this situation a bit tight, and started experimenting with new ways of presenting Italy's national staple. This often equates with smaller quantities of pasta going into each single portion, which in turn means a better carb balance when inserting pasta dishes in modern multiple-course gourmet menus, as opposed to the traditional three courses pattern. Freeing plating from the pasta clutter also allowed to better honour the glorious supporting-ingredients.

Related Articles:
<DESIGN MAG VOL 2: Table Setting in China>
<Food, Care, and Design: A Timeless Romance at the Dining Table>
Copyright © Homa 2023
All rights reserved