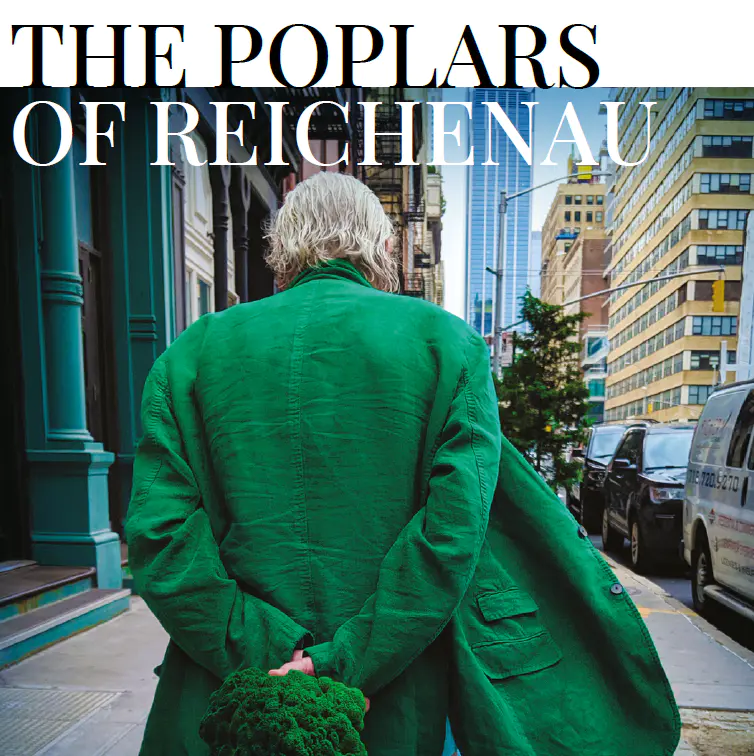 credits: Angela guevara
German designer Ingo Maurer (1932 - 2019) is known the world- over for his unique, poetic approach to light. Though considered an industrial designer, Maurer's artistic personality was a hard one to pin down to a single definition. He always made a point of introducing a strong element of craftsmanship, and poetry, into all of his creations, not only in the one-off pieces he'd occasionally make for private collectors, but in his entire production.
Throughout his life, he remained a child at heart, and a dreamer. The son of a fisherman on Lake Constance's Reichenau Island, young Ingo used to spend long hours watching the light dancing on the waves in a perpetual game of infinite reflections. He would never grow tired of this contemplation. He also loved to watch the birds, the sky and the nature surrounding him, and would later take inspiration from these memories. For instance, the wind playing through the leaves of the poplars lining the scenic road connecting Reichenau to the mainland, inspired his work for the "Silver Cloud" light installation at Munich's Residenztheater.
"Reality only reveals itself when it is illuminated by a ray of poetry"
– Georges Braque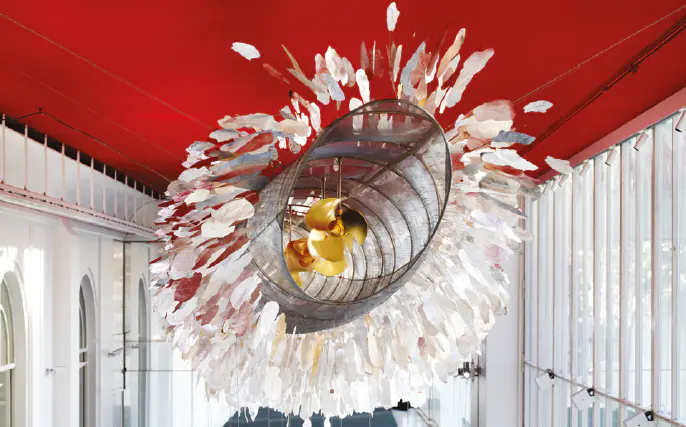 It all started in Venice After his design studies in Munich, Ingo Maurer worked as a graphic designer in the US, but soon realised that what really interested him was light. Back in Germany, he created his own design company in 1963. The breakthrough came in 1966 with his first international hit: "Bulb". Maurer loved to recall that the inspiration for its design came one night in Venice, after he had a hefty meal which he washed down with an entire bottle of red wine. That night, he was haunted by the vision of the rounded shapes of that empty bottle, which gave him the idea of the bulb. The next morning he went to Murano and had the glass part hand-blown under his eyes to the exact shape of what he remembered from his inspired yet agitated night. He later added a basis to the lamp.
Light as a connection to our emotions
The playful yet minimalist lines of "Bulb" were a powerful example of Maurer's idea that what was really important was light itself, not the form, so the shape of the lamp was a representation of the very bulb contained, and visible, in the glass shell. A theme that became recurrent in his work, and a new paradigm in the industry, a true revolution of functionalism over form yet with the added, unique element of Maurer's poetic and emotional touch
All his subsequent production would convey this concept, and at the same time carry Maurer's inimitable elegance and lightness. He also experimented with other materials such as feathers, metal and paper. Humble, everyday materials which would introduce, in an often humorous way, that typical element of craftsmanship that characterises his creations, once again upsetting the accepted boundaries separating mass production from custom pieces.
"Lucellino", declined in numerous versions in the "Birds" series, was also themed around the light bulb as the embodiment of both function and form. It featured a low-voltage, specially made light bulb to which goose-feather wings were attached.A masterpiece of poetry and simplicity.
Reminiscent, at times quite deliberately, of Japanese history and culture, numerous pieces use paper and origami techniques. "Samurai", "Poul Poul", "Yoruba Rose", "Wo-Tum- Bu" and "Kokoro" are among these.
Confirming the difficulty to box his style into a single movement, Maurer's repeated flirts with Pop are a clear expression of his ability to play with shapes and materials while remaining absolutely true to himself in privileging both the beauty and the functionality of light. The "Licht.Enstein" series cheekily hints at Pop Art icon Roy Lichtenstein, while "Canned light" makes direct reference to Warhol's Campbell Soup cans. "Comic Explosion" and the "Campari" series also offer strong, colourful references to popular and mass culture imagery.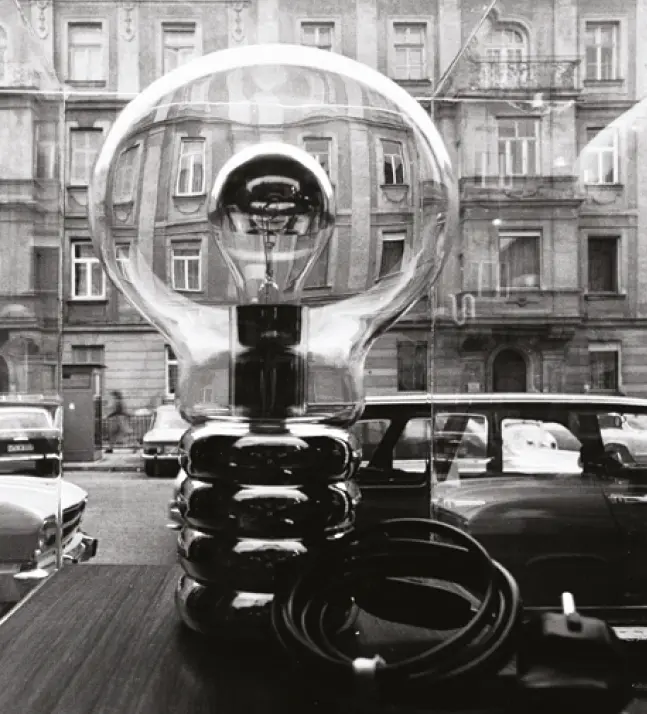 "Bulb" was a resounding success, an instant classic that took the design scene by storm. In 1969, it was on display at New York's MoMA. That was the start of a worldwide success that continues to the present day, and beyond his passing in 2019.
"Form is important, but light itself is more important. I believe light is something very much connected to our emotions"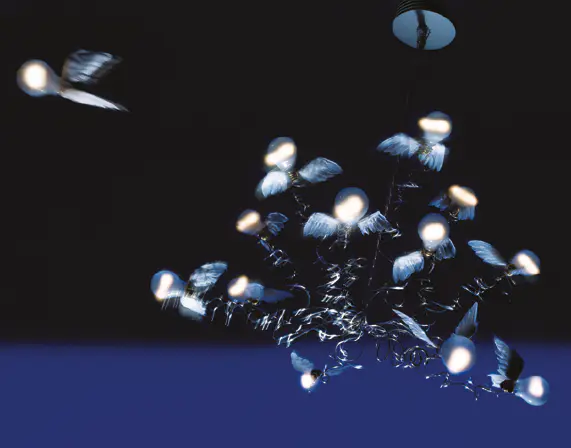 "I like design that is understood and not pretentious, which leaves a lot of space for people to use it"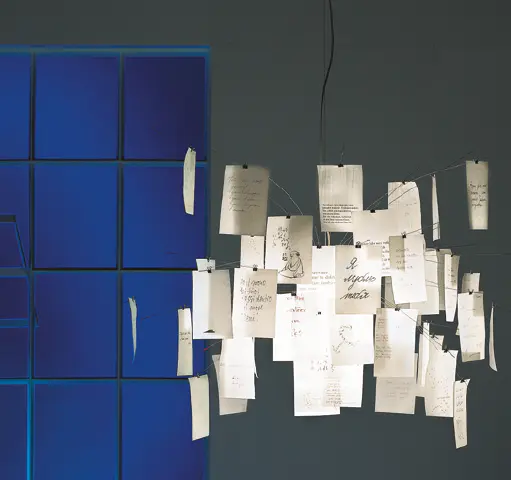 Maurer's intent was to make people feel good, and looked after, in a space lit by his creations. This applies indifferently to production, custom lamps and to the large public installations, of which Maurer did a consistent number in every corner of our planet.
In that, his perspective is more that of a director of photography than that of a designer, as he would focus on the emotions he can create more than on the aesthetic impact of the physical object. What people feel when using his products is really important to him. This concern translates quite clearly in the "Zettel'z" series, among Maurer's best known lamps, with a series of blank sheets of paper being supplied for users to express their creativity with their own messages and sketches.
The Maurer production is vast, and keeps expanding to the present day. It includes many other inspirations and references, yet maintaining the same spirit.
The importance of the emotional part, though, does not imply disinterest for technology, far from it. Maurer is among the first designers who experimented with LED and OLED, and the quality of light and its effectiveness at "doing its job" are paramount throughout his entire production. This only comes with thorough and rigorous R&D work.


Like a renaissance master
"We can do the work we do only because we have a super team"
Ingo Maurer passed in 2019, yet his legacy survives in the continued work of his successors. He used to refer to his collaborators as "the team". From the moment he became an established designer, some forty years ago, he created a veritable renaissance workshop. A school of thought, of art and craft, that grew with him, perpetuating his special attitude to light and life. Today, the "spirit of Ingo" lives on in the 60-strong company he created and that bears his name.
→
ingo-maurer.com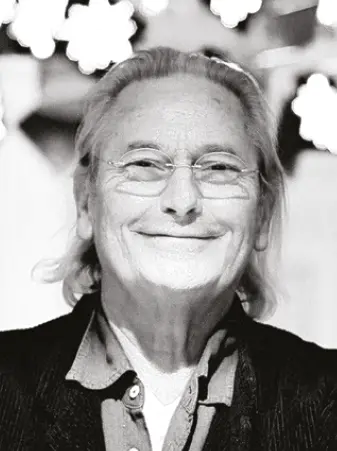 credits: Artcurial
All rights reserved