An inspiring tandem interview with Francesca Lanzavecchia and Hunn Wai, founders of
L+W design studio
based in Italy and Singapore. Taking design one step further into the digital dimension, they also evolved their craft from simply creating a product to becoming social researchers, tech-whizzes and storytellers.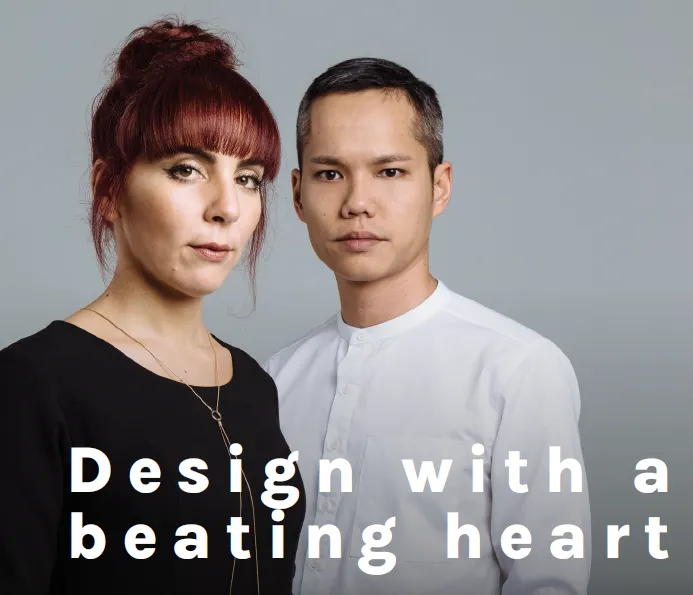 Falling in love with their clients is part of the deal, and when one gets to know them it's very hard not to love them back. The attention and care Francesca Lanzavecchia and Hunn Wai put into deeply understanding the brand, the context, the industry and the technologies surrounding any new project they undertake, are the secret of their success. Coming from two diverse but equally immensely rich cultural backgrounds, Italy and Singapore, Lanzavecchia and Wai make a point of infusing their clients' DNA into their creations while strongly expressing their own viewpoint. If they master technology, be it cutting-edge or ancestral, it's always eminently meaningful, as the human being takes center stage in their quest.
"We use beauty to bring the public closer to a project and make them understand its deeper meanings"
Q: What is your general approach to design in taking on a new project?
LANZAVECCHIA: Our design practice always follows the same principles since we founded our studio in 2010. Research is the central element to our practice: we always dig very deep in a context, and not only in technology and design terms. We try and extrapolate our viewpoint on a certain topic or scenario and "freeze" it, through the design process, into an object, an installation or a product. That's grounded both in the knowledge we have and also in the fact that we're very curious. We like to feed our design practice with a lot of notions from both the technology and the human sciences domains.
WAI: On a more philosophical level, we like to see design as an instrument to change perspectives and perceptions of how the world can be. That's where design comes from, to make the world a better place. For us it's about how we interact with industry, asking ourselves about manufacturing processes, markets and audiences in demographic terms. That's always been the basic equation to our approach, with a strong focus on the execution and the expression of design.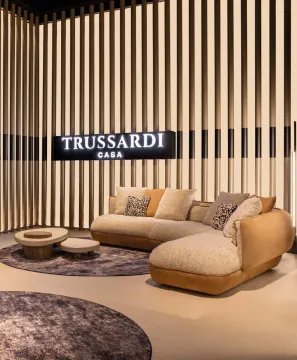 Q: You seem to have quite a strong focus on techniques and craftsmanship, such as in the recent work around knitted fabric you did for one of your clients in Japan...
L: In all our projects, there are different degrees of philosophy and storytelling, and also in the expression of our viewpoint. We always try to extrapolate the client's own perspective, of course, and include their DNA. Also, we focus on technologies, may they be a thousand years old like glass blowing or avantgarde, such as NFTs. For this particular project we worked with a leading Japanese company manufacturing 3D knitting machines. They have been working with the fashion industry for years, and now want to enter the world of design. They have a lot to offer, and their values strongly resonate with the current trends of the design scene, such as a great attention to sustainability and the environment, zero-waste, custom-made, personalised patterns. It was a good opportunity to showcase what this kind of technology could do.
We tend to fall in love with our clients, and try and build meaningful projects for them. We use beauty to bring the public closer to a project and make them understand its deeper meanings.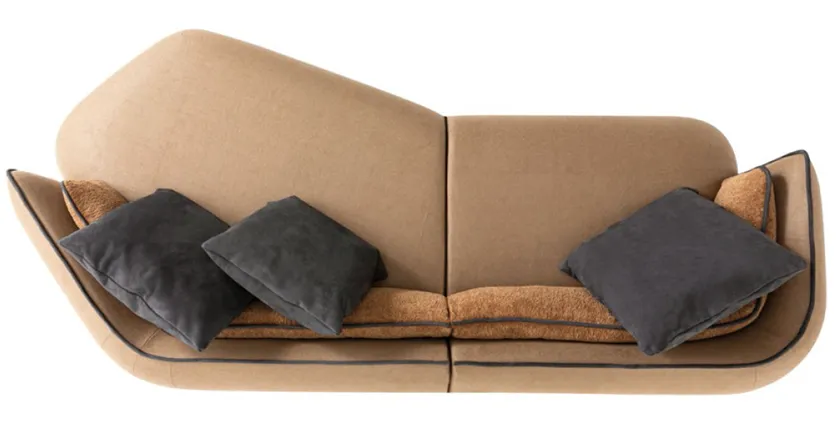 The "Nebula" sofa created for Trussardi, with its generous, soft, rounded shapes. A noticeable presence at Milan's recent
Salone del mobile
.
"Bringing the best of the new world into the old one, and vice versa"
You come from two very different cultural backgrounds. How did that impact your work?
L: In fact we actually engineered this "clash of cultures" back in 2010. We had just finished our studies, and discussing about the future outlook of the design scene, we realised we needed to keep an eye on Asia and one on Europe. That's how it all started, and we kept working on the concept, never stopping to question and confront ourselves. Then, when Covid came, with all the smart working and teleconferencing, we were ready: we had been there for 10 years, since that was the only way we had to constantly interact, communicate and compare cultures. Bringing the best of the new world into the old one, and vice versa.
Would you define your approach more tech-oriented, or more classic?
W: Design is a direct response to the context, so our approach isn't really one or the other, it's more a question of keeping our eyes open for what's going on in the world. The more people use the objects we design, the more our design, and our viewpoint, have an impact.
L: This is also why our studio is located in two continents. Hunn needed to be rooted in Singapore's tech-culture and I really needed to see the world evolving on a daily basis. What's really important for us is to constantly compare notes. It's a way for us to keep questioning and hybridising the world.
With your NFT projects, you decidedly moved beyond design, into the world of art. What made you take that step?
W: During Covid we weren't able to travel, and in a sense we felt cut off from the rest of the world. We also had to drop several projects, and started looking for new opportunities which possibly wouldn't have so much of a physical dimension to them. We were intrigued by the level of interest NFTs seemed to receive from investors. Most of our work was already in a digital form, often in 3D, given the double location of our studio and the need to exchange files. We thought about making that the final product. We started to think about how to transfer the value of our industrial design work into an intangible product. That involves a lot of stripping away of physical elements we can normally play with in the real world to bring value, like materiality, feel and proportion. We realised that social media played a role in communicating value. A lot of things get bought because they're popular on the web, because they become viral. One must also learn the logistics of social media. For instance, our "living vase" NFT has a loop of exactly the same length as an Instagram story, so it won't get cut or interrupted.
L: Vogue Singapore asked us to design something special and unique for their "new beginning" issue, so we started thinking about how we could create a collectible artefact that only existed in the digital world. To celebrate the return to life, we imagined something made by nature that would live forever in cycles on the blockchain. By not having the constraints of the physical world, we had limitless possibilities. Products nowadays are becoming increasingly phygital, as their digital dimension is getting ever more relevant. It's not only NFTs, we're already living in a virtual world, just think of this conf-call interview. As industrial designers, it's important for us to catch that wave, and the Vogue project was a great opportunity in that sense.
W: Also, there's a lot to be explored in terms of value exchange and remuneration when considering this subject. The Metaverse can completely disrupt the way we look at the matter, and make the whole process more fluid, and even reverse it, whereby you can receive support upfront from people who believe in your work. The NFT project was an important first step for us to explore these mechanisms and participate in this economy that is yet to be invented for the most part.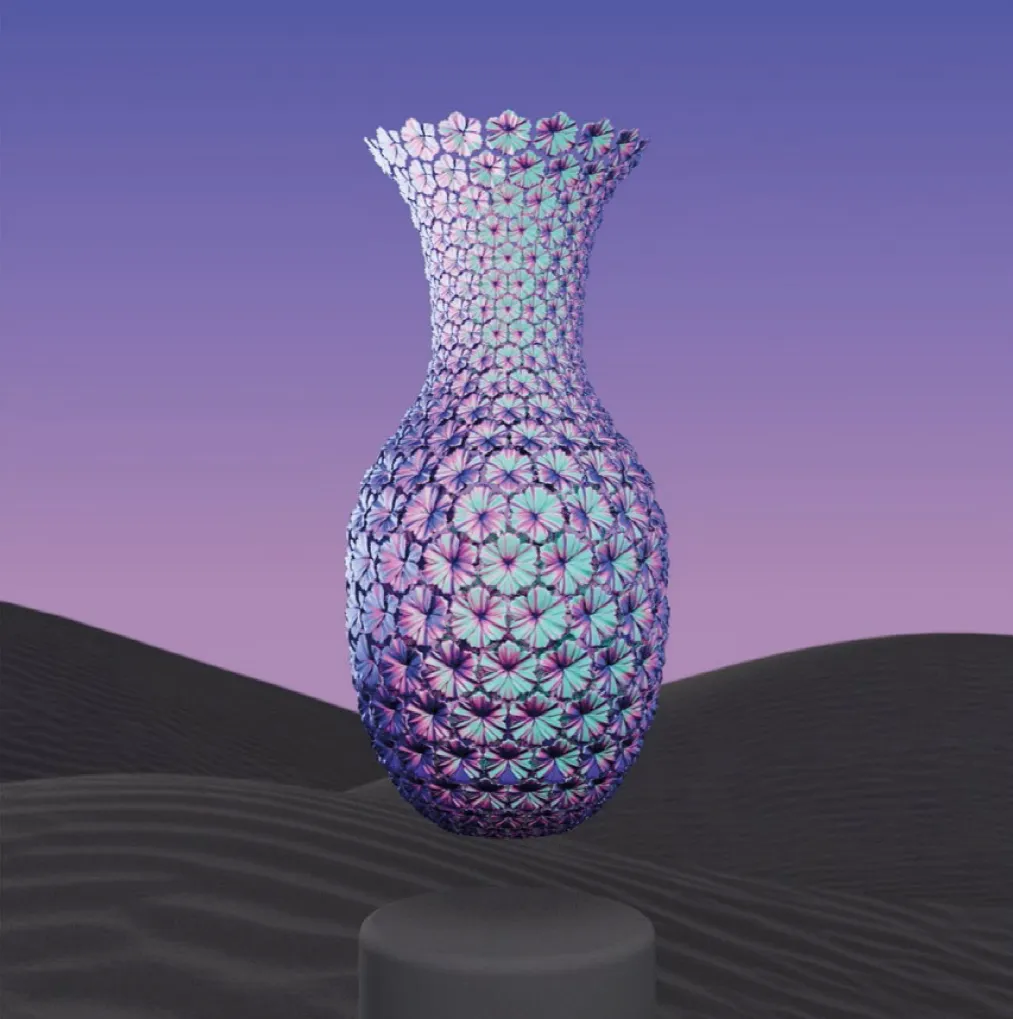 "Living Vase", an NFT specially created for vogue. The vase is made up of a multitude of lotus flowers, blooming and dispersing into the universe on dawn-to dusk infinite cycle.
You are still producing some very physical work, like Trussardi Casa's Nebula Sofa recently seen at Milan's Salone del Mobile. What are your plans for the future?
L: Digital design is for sure going to be part of them. Also, we will continue to grow and strengthen our relationship with brands we are currently working with. There's an aspect of design that seldom gets discussed, and it's about relationships and "being connected". We draw our inspiration from that relationship. At the end of the day, we're very much on the human side of things, like for the Nebula Sofa you mentioned: soft, rounded shapes, generous proportions, it's meant for quiet moments as well as for the whole family jumping on it at the same time. So we'd like to continue exploring new technologies, but always keeping a heart beating in everything we do.
W: The spoken word is still a very powerful way to communicate and inspire, so producing content, in particular for digital media, is very important to us. There's a lot of value tied to digital content, which tends to be consumed a lot. As designers we are moving forward and beyond the traditional boundaries of our trade. If we want to make an impact, we need to be where all the hype is.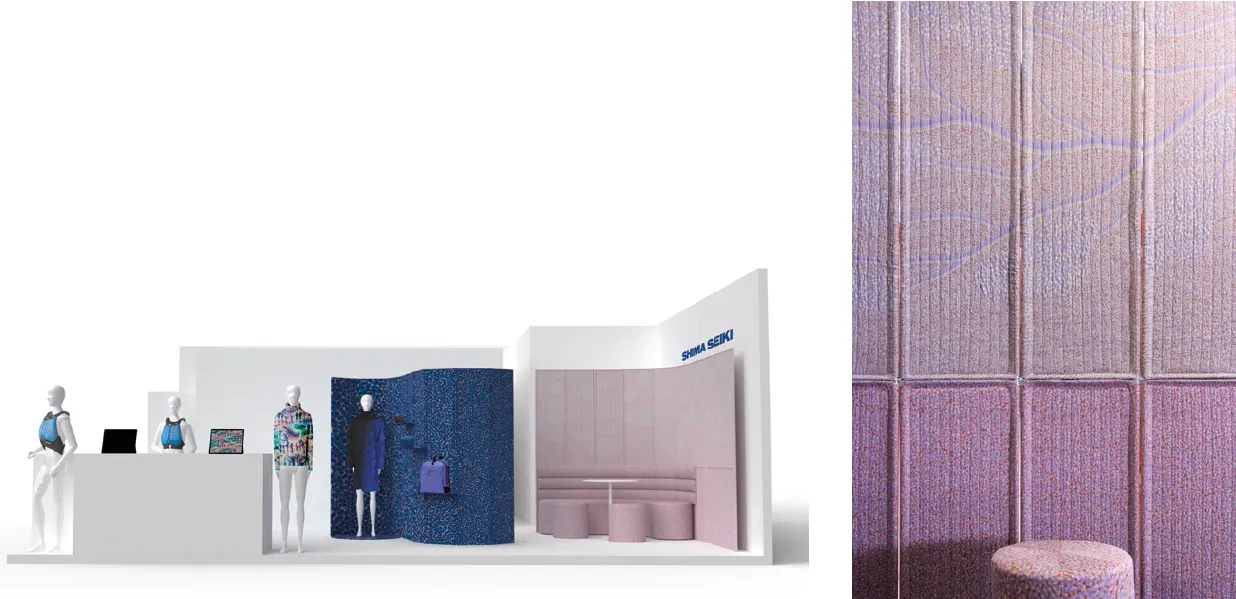 3D knitting enters the world of design, with these single-piece partitions as stylish elements of home or office furniture. Incredibly versatile and with infinite personalisation possibilities.
Lanzavecchia+Way
Italian-born Francesca Lanzavecchia, 39, and Singapore's Hunn Wai, 42, founded their design collaborative Lanzavecchia+Wai in 2010, after they met at Eindhoven's Design Academy while studying for their Master degree in Conceptual Design in Context under Dutch designer Gijs Bakker, basing their creative collaboration on their cultural differences and their shared sense of curiosity and urge to investigate the world around them. They won several international awards, among which "Young Design Talent" from Elle Decor in 2014 to the "Red Dot Award" in 2016. They collaborated with major design platforms such as the Fuori Salone, the Triennale, the Salone del Mobile and Tokyo Design Week, among many others.
→
lanzavecchia-wai.com
Copyright © Homa 2023
All rights reserved