Among the most prominent designers of Italy's post-industrial age, Briton
James Irvine
left a precious legacy to the world of industrial design in the shape of the impressive archives made up of his famous "black books", in which he used to consign even the most minute details of every single project he had worked on. A most complete collection representing a significant chunk of contemporary design's history. Also, an engaging storyteller who loved socialising with colleagues, Irvine adopted the now iconic
Bar Basso
, close to his studio in Milan, which became a trendy watering hole for celeb designers and architects. Today, it still is "the place to go to" during the Milano Design week.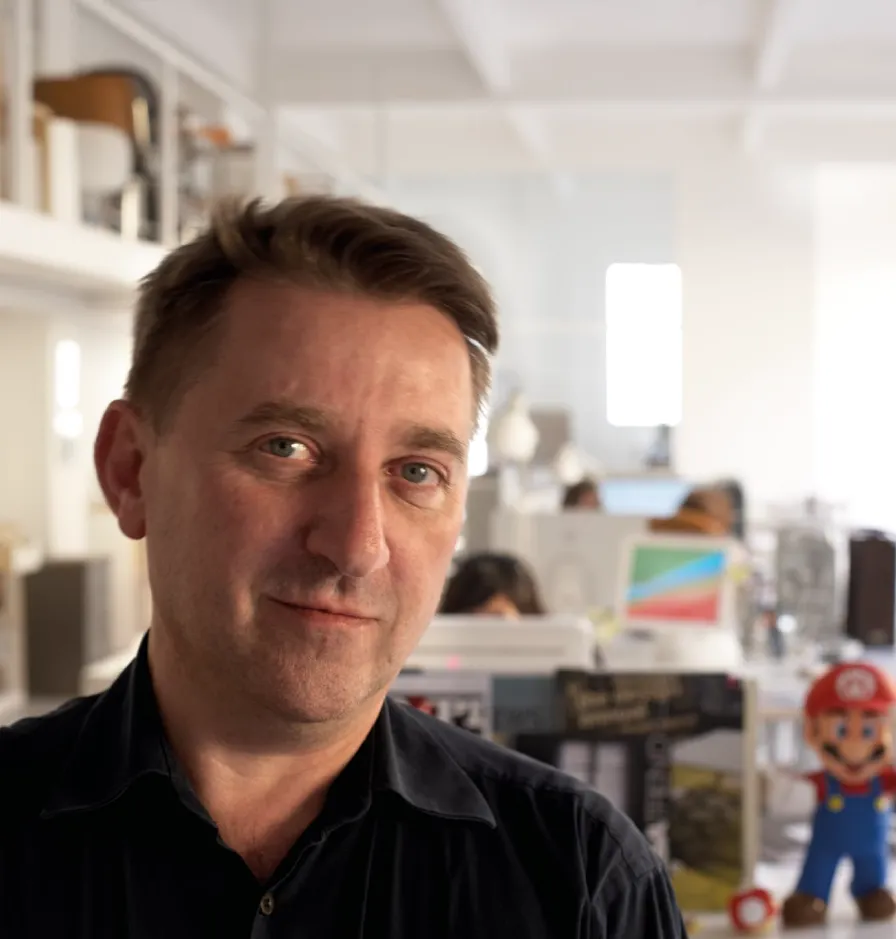 James Irvine", edited by Francesca PIcchi with Marialaura Irvine, Phaidon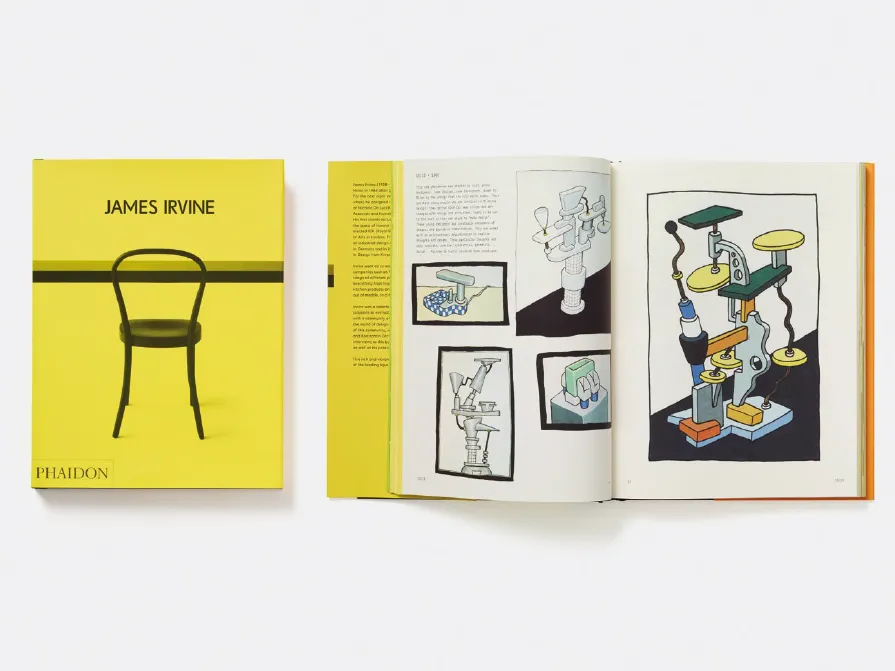 James Irvine at the historical studio in the Navigli area
"He casually opened the door in boxer shorts, thinking I was someone else. I hardly said hello because I caught sight of the cardboard model of a chair, down the hall. It was the first prototype of the Piceno chair"
- Giulio Cappellini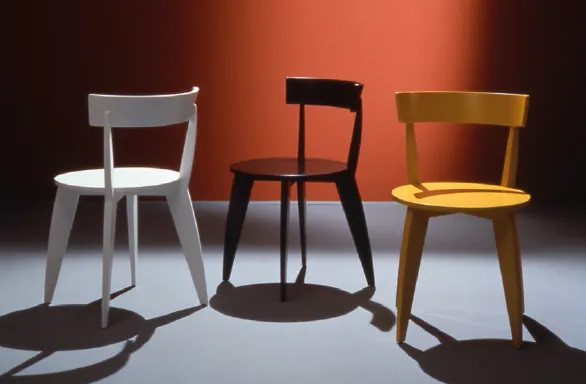 Piceno chair designed for Cappellini, 1991


Them little black books
If on one hand James Irvine was that loveable, sociable character who had a highly developed sense of irony and seemed to be as distant as possible from any kind of dusty formality, on the other hand he was exceptionally meticulous in his work, going to extreme lengths to keep track of every single interaction with his clients, from emails, to meetings, to sketches, in the "journey" that every project he took on represented. Everything was recorded in "black books", before turning into the beautiful swans of fully fledged, finished designs. It was so much of a habit that it became the Studio's very own work method, still in use today at Studio Irvine. "It's the only way you can efficiently manage 25 or 30 projects at a time, each of them stretching over a period of two or three years", explains Marialaura Irvine, his wife, life-companion, and also fellow designer and architect, today at the helm of Studio Irvine. Also, he loved details, and his sketches were incredibly accurate, as he would even take the trouble to include shadows and all. He loved precise sketches, but that did not necessarily mean "ornate".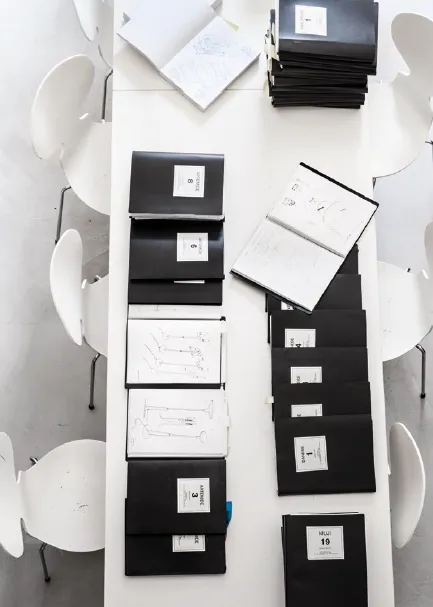 Black Books at the studio (photo: Santi Caleca)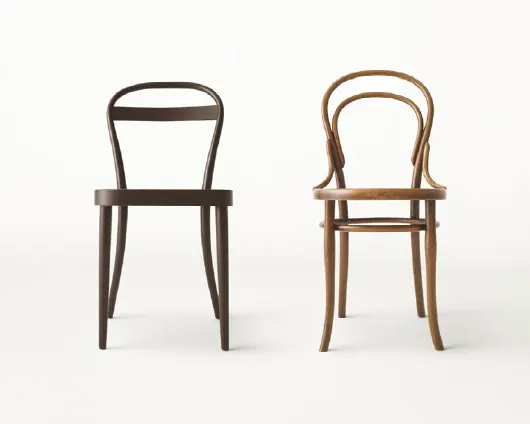 Chair n°14 designed for Muji / Thonet, 2009
"A project has to have a good strong idea behind it. It doesn't need to be embellished so much - it just needs to be right"
Irvine was always prepared to question himself, too. Towards the end of the 1990's, he was to design a bottle-opener for Alfi. He extensively quizzed Luigi, a waiter at one of his favourite restaurants in the heart of Brera, over what the ideal shape would be. After two years he proudly presented Luigi with a gift specimen of his brand new bottle-opener, only to see the man slating the result of his efforts, bluntly dismissing the tool as "too heavy". "I felt all the arrogance of an over-confident designer who believes he can make something better... I realised that the best corkscrew is the lightest.." he later confessed.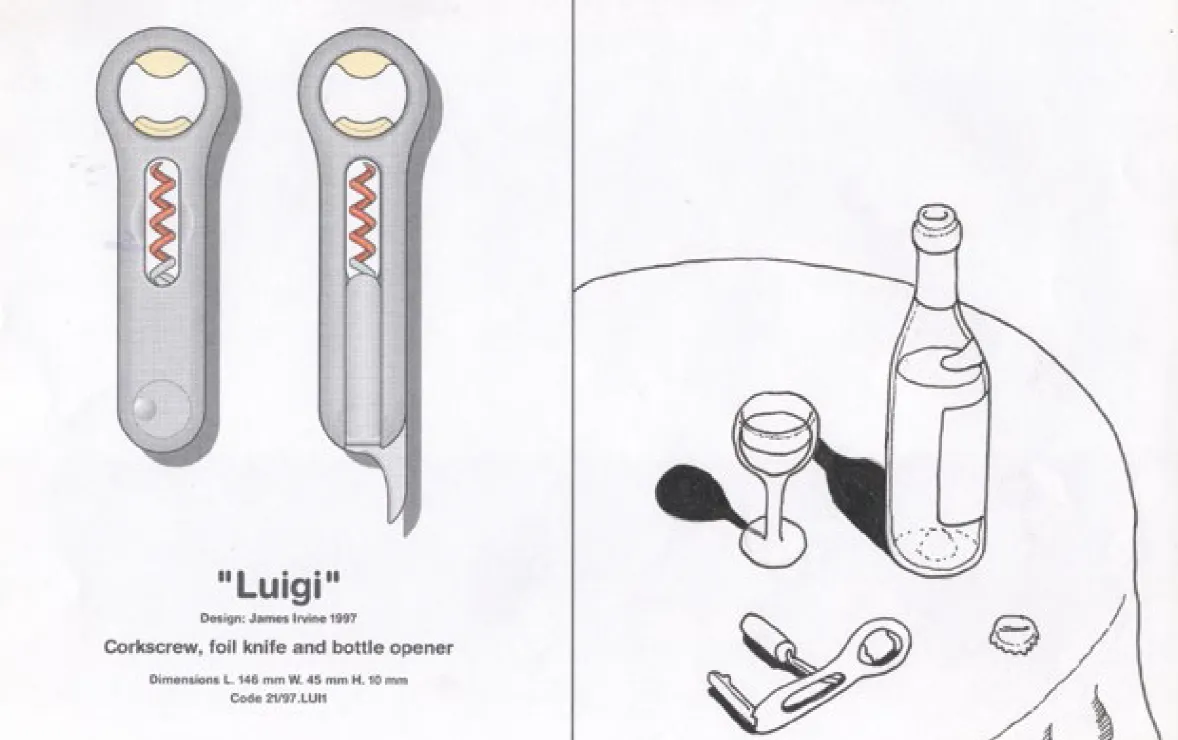 Luigi corkscrew designed for Alfi, 1997
Collaborations and cross contamination
Since his beginnings in Milan at the Olivetti Design Studio under the supervision of Michele de Lucchi, Irvine bonded with most of contemporary design's household names of the time, from Ettore Sotsass, who formerly lead the Olivetti team, to De Lucchi, Cappellini, Meda and many others. Most of them also contributed vibrant, emotional accounts of their personal and professional encounter with James and their "walking a stretch of the road together", in the beautiful monograph book "James Irvine" recently published by Phaidon as a celebration to his life and work. If he took inspiration from their work, in turn, as they all willingly admit, he inspired them back with his incredible personality and his down-to-earth, tongue-in-cheek genius.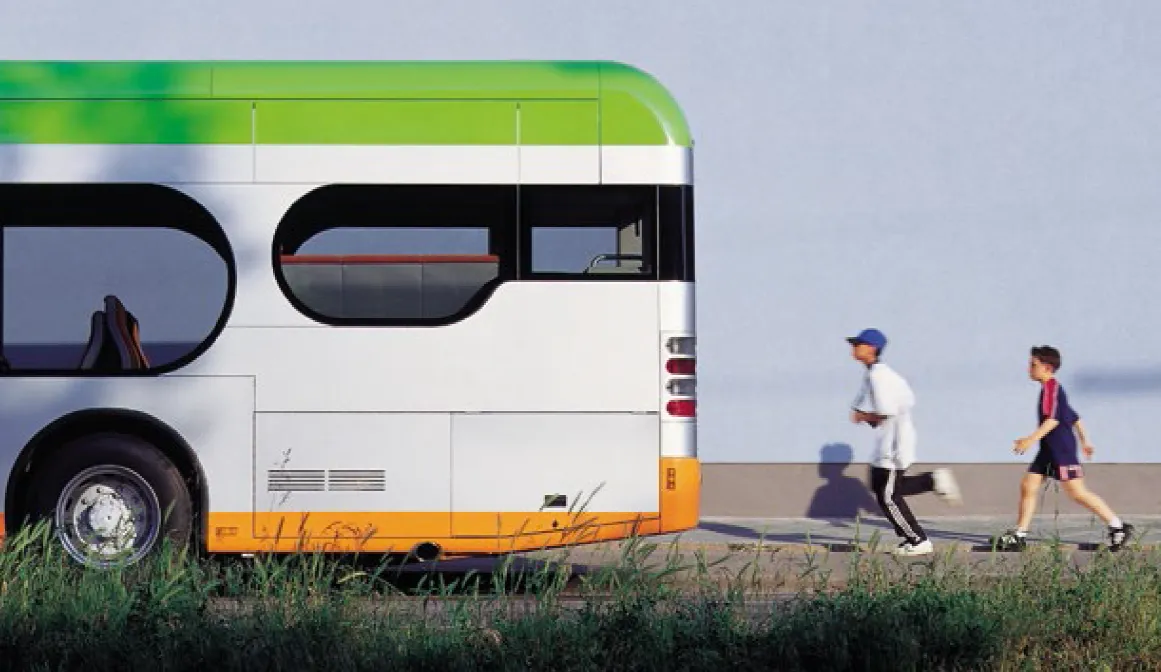 Üstra bus designed for Mercedes-Benz, 2000 (photo: Santi Caleca)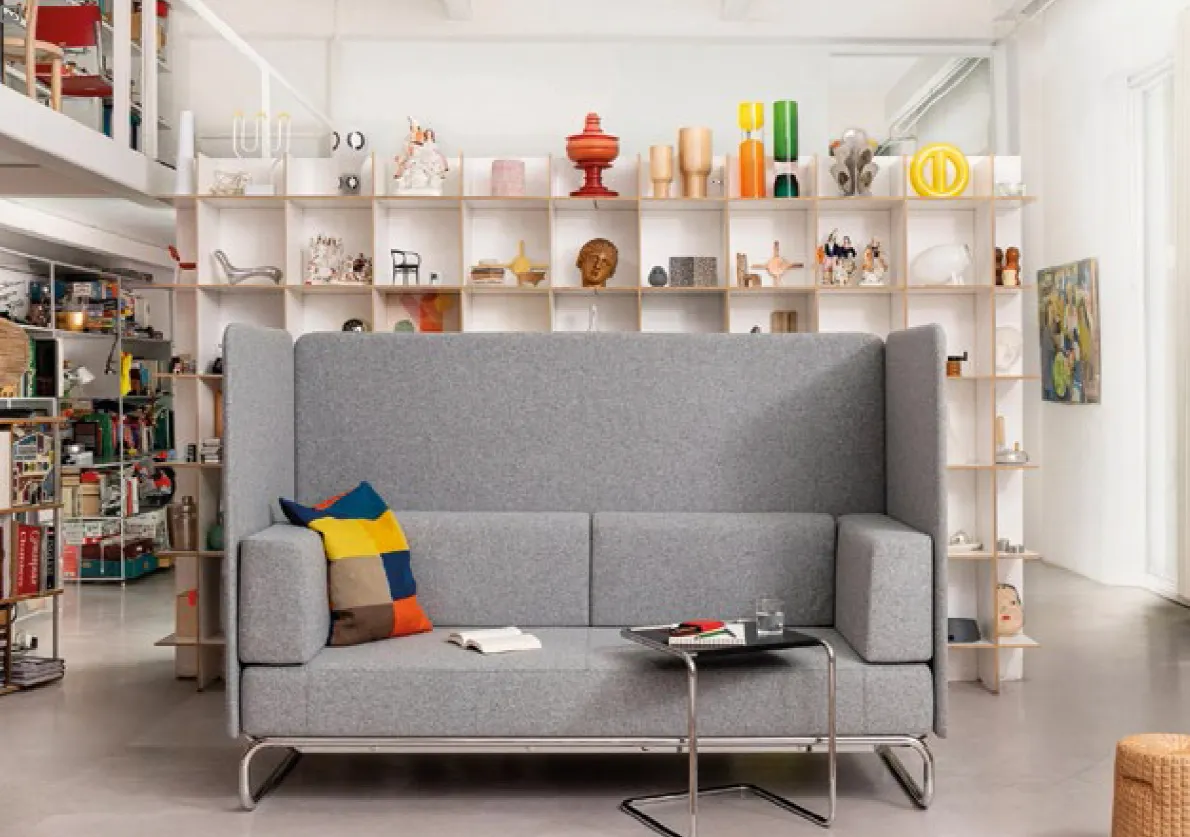 S500 Sofa System design for Thonet in 2006 and updated by Marialaura Irvine in 2021 (photo: Giacomo Giannini)
An eclectic worker, he was curious just about everything. He also collaborated with many internationally known brands and companies, and designed an incredible variety of products, from injection-moulded chairs, to stainless steel equipment for the kitchen and all sorts of beautiful objects and implements. Some of his creations are held on permanent display at Milan's Triennale, among which what could be considered as the precursor of a tablet computer, a prototype he designed for Olivetti, and the Piceno chair that struck Cappellini upon his first visit at Irvine's. The consecration of Studio Irvine as an internationally established industrial design studio came in 2000 with an order from the City of Eindhoven, in the Netherlands, for a fleet of Mercedes Benz buses for the city's public transport firm. It was a success, and the buses are still on the streets of Eindhoven today! At the time, on top of managing his own design studio, Irvine was also design director at Ettore Sotsass Associati. It was an incredibly busy period for him, but again his poetic side would emerge, with him showing up at aperitivo time, drink in hand. He'd review the day's work, and rush back and forth, meeting clients and fellow designers, and travelling endlessly, but he'd still find the time to invite friends for dinner, and then do some more sketching late at night.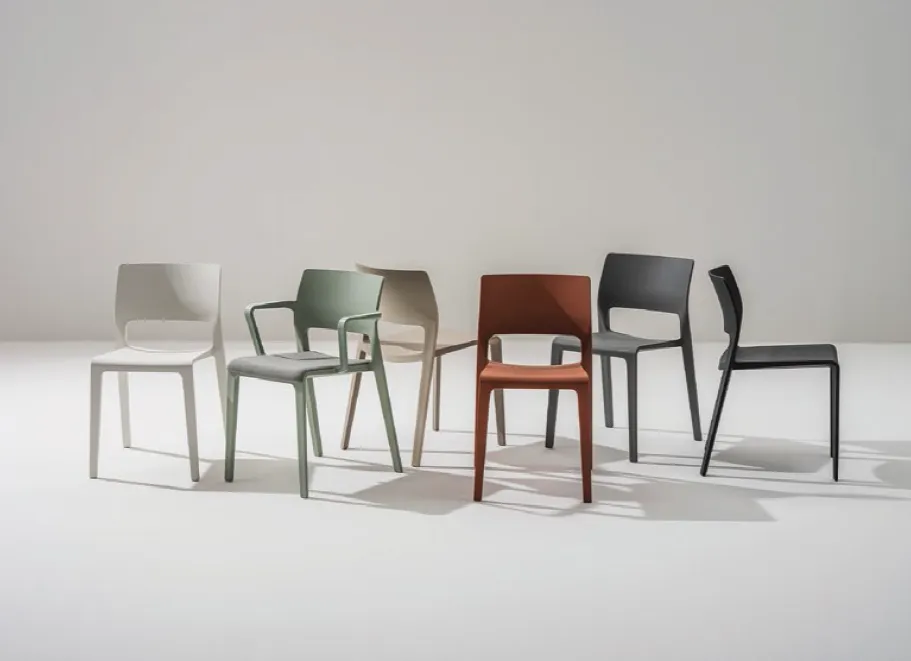 Juno chair, designed for Arper 2012 and updated by Marialaura Irvine in 2022
Birth of the Bar Basso saga
Irvine was a true Brit, but he had fully embraced Milanese culture. He loved to hang out in traditional places run by old- style owners who tried to establish a bond with their customers. Bar Basso was probably the epitome of what Irvine intended as the perfect Milanese establishment. It was close to his studio, and he loved to spend time there with anyone who came to visit him, and at the time, one didn't go to Milan without paying a visit to James Irvine. Legend has it that it all began with one memorable party organised on the occasion of Jasper Morrison's departure, but the fact is that in the design world, Bar Basso had come to be so inextricably associated to Irvine that it took on his aura. Incidentally, Bar Basso's game-changing contribution to the bartending world was the invention of the universally acclaimed "Negroni sbagliato", in which gin, part of the original Negroni recipe, is advantageously replaced by Prosecco. To date, Bar Basso, located in via Plinio, remains a landmark and a place to visit during Milano Design Week. Over the years, the Studio has steadily consolidated its stance on the international design scene as it continues to attract new orders and clients. Irvine's legacy of attention to detail and ingenuity, his "method" and passion still inspire the team at the Studio now led by Marialaura Irvine, and keep bearing fruit. Today, Studio Irvine looks at the future with confidence and anticipation. Something the master himself would have found worth drinking to with a memorable Negroni sbagliato!
Bio
London-born James Irvine (1958-2013) arrived in Milan in 1984, aged 26, after earning a Master's degree at the Royal College of Art. He started off in grand style, joining legendary Ettore Sotsass at Olivetti's design studio in Corso Venezia. The collaboration with Sotsass in the blessed post-Memphis era was to last for years, even after Irvine opened his own design studio, "Studio Irvine" in 1988. Over the years Irvine collaborated with the most prominent names in contemporary design and many of the world- famous companies and brands were his clients. During his professional life, Irvine designed all sorts of object, from furniture to kitchen utensils, to buses, showing an incredible eclecticism as well as an all-British sense of understated stylishness and sense of humour.
→
studio-irvine.com
Copyright © Homa 2023
All rights reserved