Making products for client organisations to label under their own brands comes with certain responsibilities. When designing a refrigerator or a freezer, we are embodying the personality and the values of our clients. The exercise is far from being easy, or simple.
Building lasting and strong personal relationships with our clients is part of our culture and, in some way, our hallmark. It also underlies our whole design philosophy, as we continuously gain insight into our clients' culture and personality, and their effective needs. We are also constantly on the lookout for evolving lifestyles and technology trends.
To us, technology is a means through which we can deliver world-class products. We make the best use of tried-and-tested, meaningful innovation and the latest, state-of-the-art technology to provide engaging solutions for modern living. We take premium technology and engineer it into large-scale production processes, making it available across our entire range of products. We offer premium features as standard, while remaining highly competitive.
Going beyond the established concept of "cool box", we consider our products as food preservation systems, and rethink them under that perspective. We also make a point of designing ever more sustainable products by adopting environment friendly and energy-saving technologies, processes and materials.
Our food is the strongest connection we have with nature and our planet. Taking after natural concepts such as seasons and climate diversity, we design systems that take care of our produce in a natural, gentle way. Caring for people, for their feelings, their aspirations and their needs is what drives our design.
We are aware that our products stand at the heart of people's homes, witnessing their everyday routine, but also the most important and defining moments of their lives. For that we want to provide the most satisfying and rewarding experience, and bring positivity to people's lives.
As far as the appearance of our products is concerned, simplicity, elegance and instinctive attractiveness is what we aspire to. We work with highly talented European designers to create that emotional connection at first sight. Surfaces, textures, shapes and even light, all contribute to that effect.
Yet our concept of design doesn't stop at drawing, producing and delivering a product, it includes its storytelling. This is why we also design and produce a series of materials for POS promotions, videos and brochures to help clients communicating it.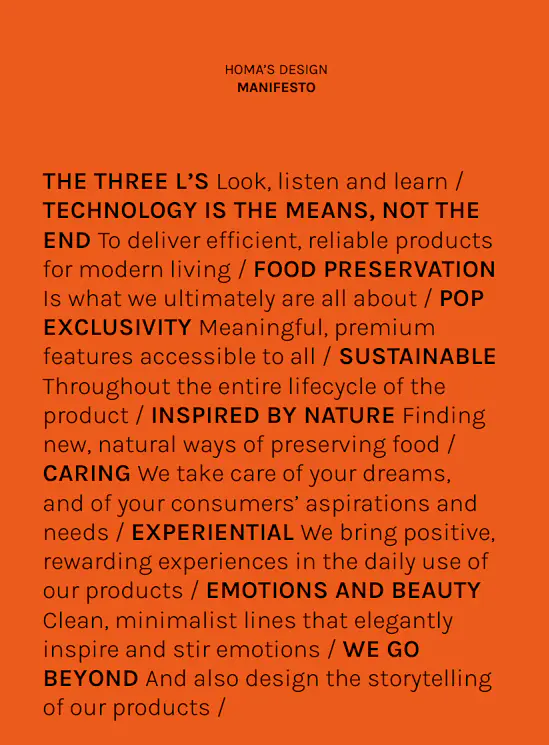 Copyright © Homa 2022
All rights reserved