There are brands or products that have made history, whose approaches and philosophies have revolutionised design logic and production methods, finding solutions so innovative that they promote and determine a profound transformation that is not only technological in the sectors in which they operate, but also a cultural and social evolution, influencing customs and habits, affecting and improving people's daily life. Many of these objects were the starting point, or even better, the springboard, which allowed industrial design to evolve into contemporary style. In some cases they were inspired by the founding artistic movements of contemporary design, such as the historic German school of art and design Bauhaus, founded in 1919 by Walter Gropius who promoted research that combined aesthetic form with practical functionality, and also involved industry and technology.
For this reason we have chosen to offer you the history of design by presenting the iconic products of four brands that have helped to promote innovation in their respective sectors - furniture home appliances, home & interiors, technology - while at the same time promoting social and cultural evolution: Braun, Apple, Vitra and Artemide.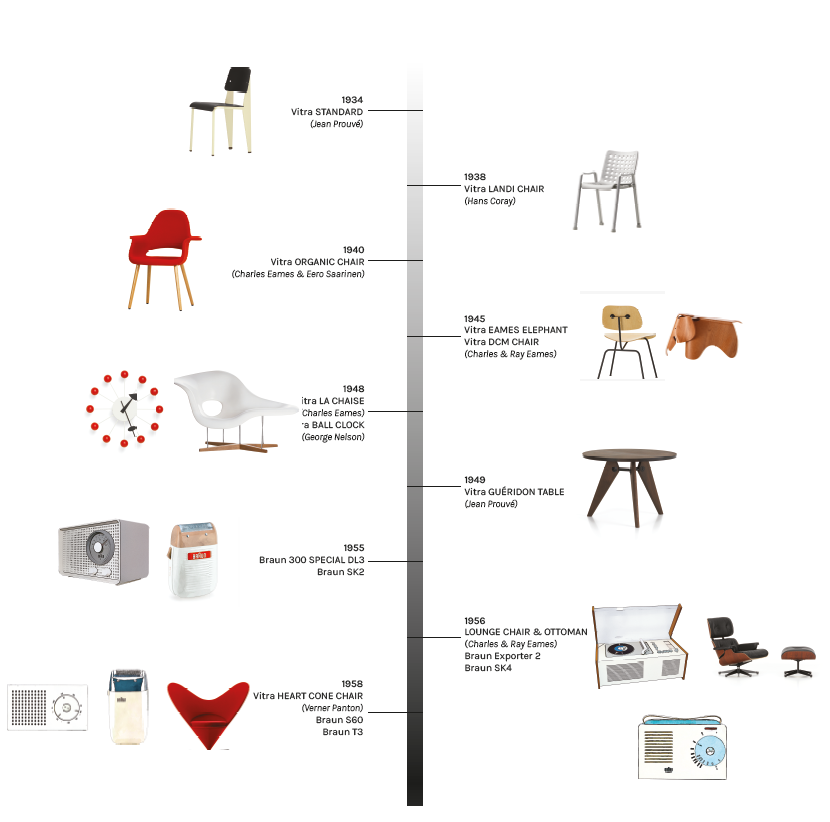 Braun, founded in 1928, became a global reference for design starting from the Sixties following the collaboration with the legendary designer Dieter Rams. His design philosophy starts from the 'Less is more' concept of Mies Van Der Rohe, German designer and architect, for a period president of the Bauhaus, according to which form follows function and not the other way around, to evolve into "Less, but better". This new design approach can be considered a pioneering theory of the current focus on sustainability and is expressed in the famous ten rules underlying its (good) design: Good design is innovative. Good design makes a useful product. Good design is aesthetic. Good design helps us understand a product. Good design is discreet. Good design is honest. Good design lasts. Good design is good down to the last detail. Good design is environmentally friendly. Good design is designed as minimally as possible.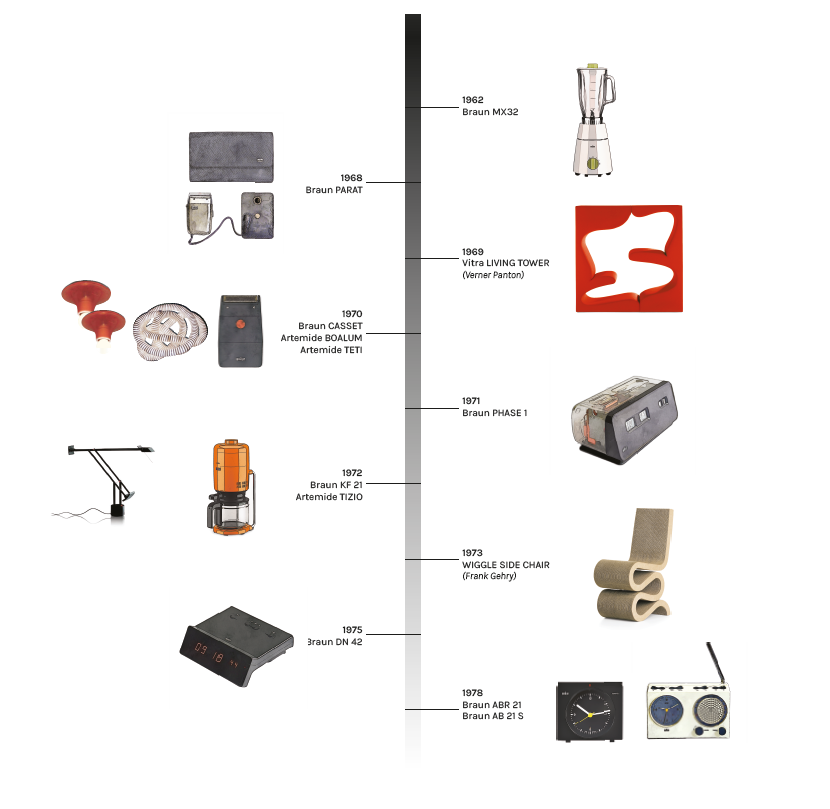 Rams' design philosophy creates the conditions for the development of increasingly advanced home appliances and conditions the world market for appliances. Many industrial designs would be inspired by its products and methodology, including Jonathan "Jony" Ive, Apple's Chief Design Officer until 2019 who designed some of the most iconic products of the brand. The objects and two key principles of the Bauhaus - unity of art and technology, and form of the object derived from function - also strongly influenced Steve Jobs and his idea of design to which is added a design approach that starts from the user experience: technology must offer the user a total and interesting experience, capable of improving their life.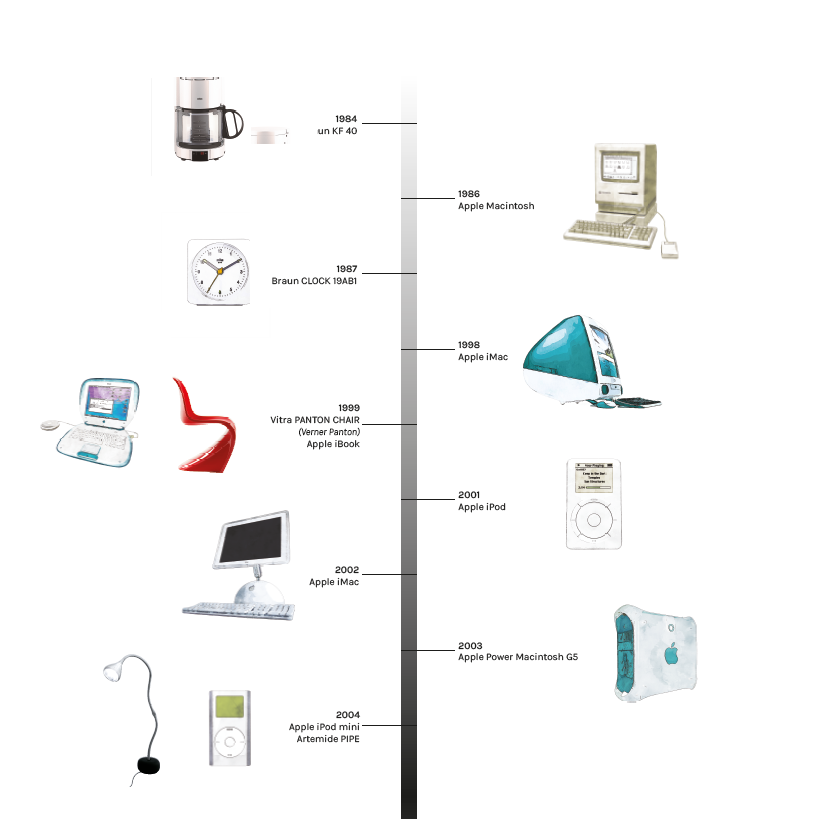 Selectivity, rigor and functionality often combined with irony and formal experimentation, the use of colour - including the lively palettes interpreted with refinement and elegance - identify the European Vitra, whose business began in 1953, when the company founder Willi Fehlbaum, discovered the chairs created by the designer couple Charles and Ray Eames during a trip to the United States, and decided to move into furnishing. The history of Vitra, which has always offered itself as a stimulating environment oriented towards innovation, is made up of the search for new talents and the most significant projects that have later become unique pieces, many of which have introduced important innovative elements in the category to which they belong. For this reason it has always been inclined to present a limited number of pieces with strong characterisation. This particular tendency is very much expressed in the seating category.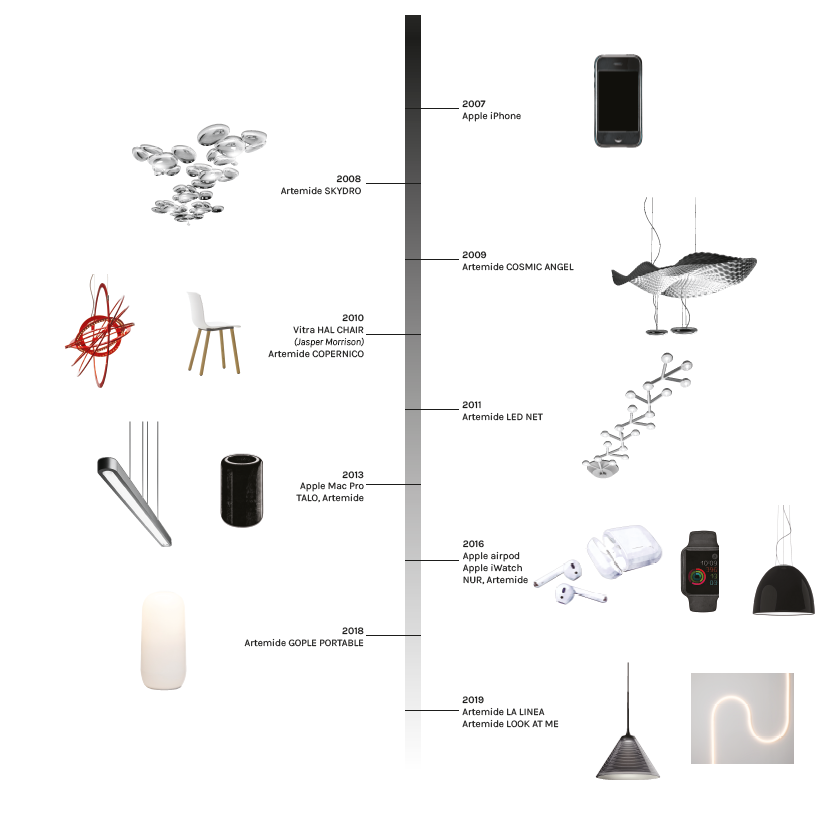 The individual and their needs, with the aim of improving quality of life and sense of well-being, are also at the centre of the vision of Artemide, an Italian company founded in 1960 by Ernesto Gismondi and Sergio Mazza, today a world reference point in production of high quality lamps. The Artemide brand is famous for its detailed attention to design and to the technical and aesthetic qualities of its products. Its popularity grew from the earliest years of its activities, thanks to the collaboration of certain Italian designers and architects to which world famous designers and new talents have been added over the years. Prompted by a pioneering spirit and by the continuous push towards research and innovation - deriving from the previous work experience of Gismondi, a graduate in space engineering, in the area of space and rocket techniques - the brand stands out for its experimentation with new techniques and new materials made easily accessible to people. With the aim of putting light at the service of man and his needs.
Copyright © Homa 2022
All rights reserved