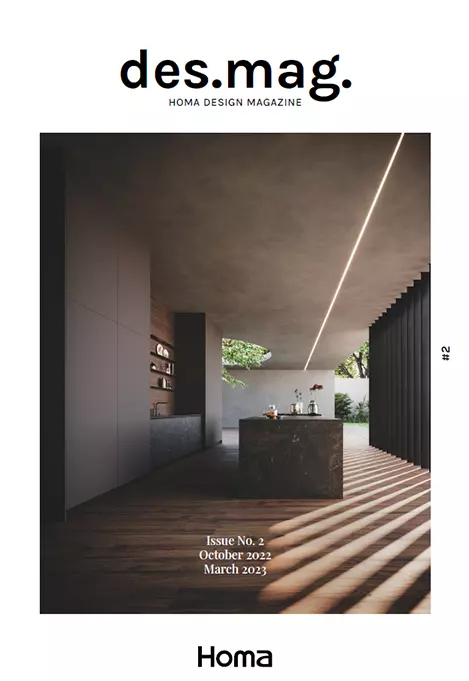 When Homa set out on its incredible industrial journey, some twenty years ago, the world was a totally different place, and so were we, in many respects. Markets, products and business culture at large were a far cry from what they are today, just like individuals, and companies, who have since evolved to make their mark in a world that never stops amazing and inspiring us.
We want to continue sharing this sense of wonder and anticipation also in the second issue of Homa Design Magazine, through the enlivening stories of people, brands and products that are shaping our global societies. We will look at their own ventures through the lens of design, for one thing has remained the same in our changing world: the human ability to dream and imagine a better life, providing ingenuous solutions to complex problems with a disarming sense of beauty and poetry.
Turning dreams into products is the designer's innate talent, with an eye to capture tell-tale details of latent, unspoken needs, yet if addressed successfully can improve the lives of millions. des.mag. continues to explore the minds and works of the most prominent exponents of the profession, past, present and future, through exclusive interviews and profiles, offering readers a unique insight in their inner workings and creative processes.
Also, des.mag. carries on looking at emerging trends, not only in the home appliances industry but in the wider context of modern living, for that is truly the business we are all in, as professionals and as human beings, with passion and dedication. Yes, coffee-makers, smartphones, tables and chairs - all featured in this issue of DM - are all part of our vision, which once again we are delighted to share with you though this magazine.
We hope you enjoy reading the fall edition of Homa Design Magazine as much as we enjoyed producing it. THANK YOU for being part of our journey, and for walking a stretch of the road together with us.
Discover more about the first issue: Homa Design Magazine
Copyright © Homa 2023
All rights reserved