"Typically we don't think of cities as being particularly extreme environments, but few places on earth get as hot as a rooftop or as dry as the corner of a heated living room." (Adam Rogers, science writer)
Over half of the world's population now lives in cities, a figure expected to rise to nearly 70 percent by 2050. Cities cover only about 3 percent of the planet's land, yet they are responsible for 70 percent of global waste, consume almost 80 percent of the world's energy, and produce around 72% of its greenhouse gas emissions.
Around the world, from radical new economic models to innovative ideas deriving from citizens, solutions are being discussed and implemented to make the urban environment more green and habitable, reduce air pollution, and grow and deliver better quality food more efficiently.
Policy and planning
·
The European Commission has agreed on the European Green Deal that aims for a climate-neutral economy by 2050. The deal will promote and showcase 100 European cities to make a systemic transformation towards climate neutrality by 2030, and to make these cities experimentation and innovation hubs for all European cities in the run up to 2050,
·
In the United States, The Greening America's Communities Program, helps cities and towns develop an implementable vision of environmentally friendly neighborhoods that incorporate innovative green infrastructure and other sustainable design strategies.
·
A 2015 report from the Asian Development Bank states that by 2025, there will be 21 megacities in Asia.
Already in the poorest of existing cities, infrastructure supply lags behind demand, and basic public services such as water connections and solid waste disposal do not reach the majority. In addition, many residents live on marginal lands where they face risks from flooding, disease and other shocks.
The report outlines steps to:
-
develop cities that recycle, manage waste in innovative ways and use renewable energy resources.
-
include mechanisms for people to affect the decisions being made about how their city is developed and managed.
-
build in resilience to disasters and other shocks
-
plan city developments that incorporate cultural heritage and history
-
develop green space and walkability, moving away from vehicle centred spaces
· The United Nations Food and Agriculture Organisation (FAO) Green Cities initiative focuses on promoting innovation for resilient green spaces and sustainable urban agriculture for large, medium and small cities in the developing world.
Colombia
In Medellin, Colombia, the FAO has supported the departments of Nariño, Antioquia and Boyacá to build community gardens. More than 7 500 families have benefitted from these gardens, allowing them to grow their own food with the possibility of selling the surplus.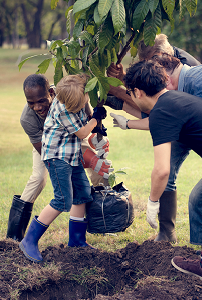 The Netherlands
In April 2020, the municipality of Amsterdam formally adopted a radical new economic model as the starting point for public policy decisions, the first city in the world to make such a commitment. The central premise of the so-called 'doughnut model' devised by British economist Kate Raworth, is that the goal of economic activity should be about meeting the core needs of all, but within the means of the planet. Rather than aiming for never-ending growth, the emphasis is on thriving with an inter-connected and balanced wellbeing across all areas, from the individual to the planet.
With a housing crisis to manage, Amsterdam aims to use the model as it makes future planning and building decisions, and more widely, in all areas of future development and investment choices.
Also in The Netherlands, a simple but incredibly effective way of re-greening has been dreamt up. In the Amsterdamse Bos, a forest on the outskirts of the Dutch capital, volunteers have collected thousands of saplings cleared from woodland paths, and have transplanted them to a local tree hub. From there they can be given away free to farmers, councils and landowners. This circular forest management saves trees that would otherwise be discarded and contributes to the ambitious Dutch tree-planting target of 37,000 hectares, about 100m trees. There are plans to scale the scheme up.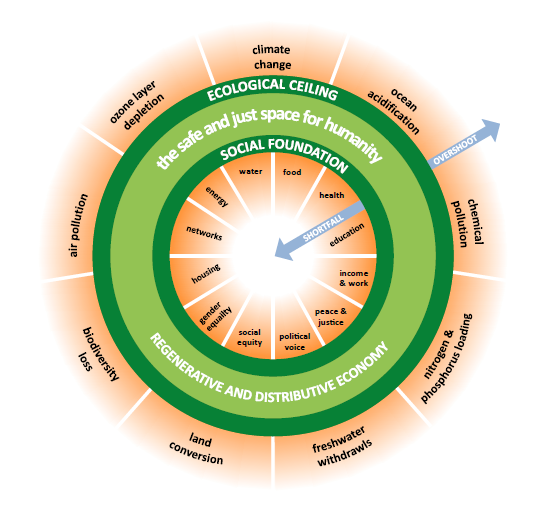 credit: doughnuteconomics.org
Italy
Milan has a target of 3 million trees planted by 2030. This approximately 30 percent increase in the city's trees has the potential to absorb 5 million tons of carbon dioxide every year while reducing PM10 small particles by 3,000 tons in the next eight years. This pollutant is responsible for respiratory disorders and has been linked to higher risks of cancer. And with the arrival of Covid19, the need for clean fresh air has become even more urgent.
The city authorities plan 20 new urban parks, while extending existing ones and transforming areas such as an abandoned freight railway network. Trees will also be planted in more than 2,000 schoolyards and in private gardens, and greenery will be also planted on flat rooftops, with 10 million square meters already fit for the project.
The most eye-catching and famous of Milan's re-greening efforts is architect Stefano Boeri's Vertical Forest, two residential tower blocks in the city centre featuring 800 trees, 15,000 plants and 4,500 shrubs covering every balcony. Since their construction in 2014, the towers have attracted more than 20 species of birds and can absorb 30 metric tons of carbon dioxide every year.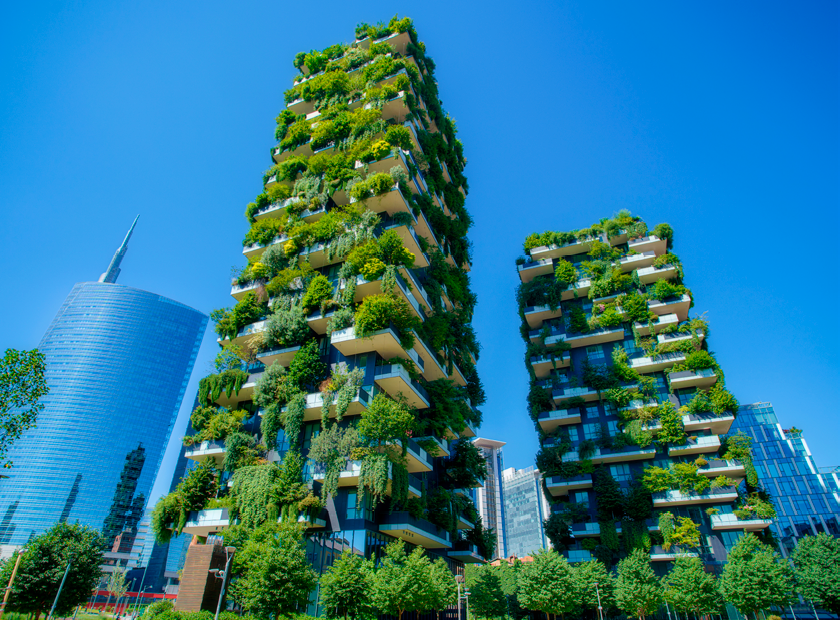 As our cities grow, so does our need for ingenious solutions to turn them from hell to heaven, from urban jungle to healthy, clean communities, able to sustain themselves and the planet, while providing a thriving future for new generations.